Why Isn't Aidan Turner Getting the Attention Orlando Got back in LOTR? Why is the publicity of this stunning young man no where near that of what Orlando Bloom had back when he exploded from LOTR? He was everywhere, the teen magazines, the MTV awards, behind the scenes and whatnot. Aidan Turner should have been the Hobbit's version of Orlando, but nothing came of it. I know girls are liking him, I've seen the youtube videos put up of Kili, but did Peter Jackson or WB drop the ball with Turner?
___
Although The Hobbit hasn't had the same impact LOTR did when it came out. We're used to being in that world now and it's not new. Maybe it's because Aidan Turner is a dwarf in it too. Short arse men. The teenage girls can't have their romantic day dreams about a dwarf but I guess they could with an elf. Load of rubbish. Kili before Legolas!
___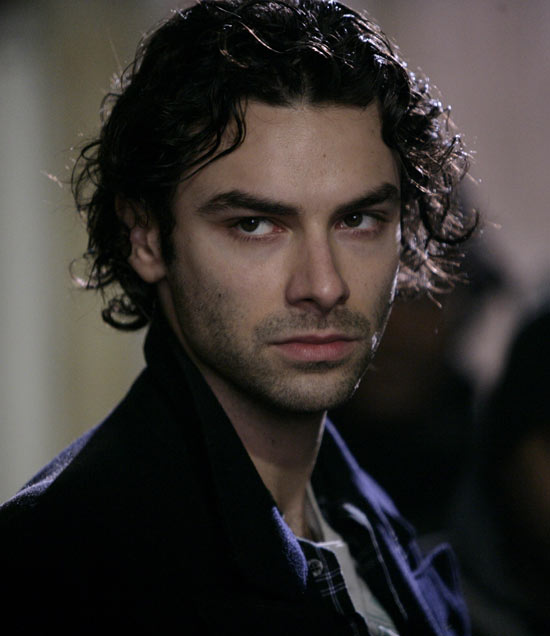 Aidan Turner, The Hobbit: The Desolation of Smaug
___
Aidan Turner's going to have more staying power. He has a really great role coming up (Poldark) in which word is already coming back from press about his charismatic turn in the lead role. He's got a bright future ahead of him... Whereas Orlando's has always been a bit of a joke.
___
I'd argue that much of the Hobbit fandom has gone to Lee Pace - who already had a burgeoning legion of fans due to Pushing Daisies and Guardians of the Galaxy.
Also it's not PJ's job to rustle up publicity for his actors, but I'd imagine that WB did their part and perhaps chose not to push any one actor out of the very large ensemble. It seems they let the collective shine, rather than individuals. That's kinda always been the way the Middle Earth universe films have been publicized.
For all we know Aidan Turner will go on to make even bigger films than The Hobbit. There's nothing stopping him from being a big star and he's still young.
And obviously very good looking!
___
I agree with the person who said that much of the publicity is going to Lee Pace (Thranduil). But I'd also like to add that Aidan Turner probably isn't getting the same praise as Orlando in LOTR because Legolas is in the Hobbit also and - once again - he has stolen the limelight. I never got the big deal with Orlando Bloom...but I guess some chicks still fawn over him. I will admit that it was tough one between Kili and Thranduil for me ;D
___
You have to remember that Orlando was very young when LOTR first came out. Possibly still in his teens or at least early 20's. Aidan Turner, on the other hand, is in his 30's, probably making him 'too old' to market to the teen set. I have seen a lot of love for him from non-teen females. And I do remember when the first Hobbit movie came out there was a lot of talk about the "hot dwarf". But I saw a lot more comparisons between Kili and Aragorn than Kili and Legolas (despite the bow).
___
Not that good looking and the Hobbit basically was being repeated with the special effects.
Like you cant do the same magic tricks well thats what the Hobbit was about.
Jackson should have done the Hobbit first then the Lord of the rings
___
But if he hadn't left we wouldn't have had the gorgeous Damien Molony as Hal in BH, and Aidan wouldn't have made The Hobbit which probably helped with the casting of Poldark.
___
Aidan Turner is getting all kinds of attention as Poldark. He is one of the fan favorites from The Hobbit films even with the terribly sad ending. I cannot wait to see what he does next. Loved him in Being Human the UK version that is.
___
Aidan Turner's Film:
2007 plays in The Sound of People role as Father
2007 plays in Matterhorn role as Theodoro
2007 plays in Porcelain role as Kevin
2008 plays in Alarm role as Mal
2012 plays in The Hobbit: An Unexpected Journey role as Kíli
2013 plays in The Mortal Instruments: City of Bones role as Luke Garroway
2013 plays in The Hobbit: The Desolation of Smaug role as Kíli
2014 plays in The Hobbit: The Battle of the Five Armies role as
2015 plays in The Secret Scripture role as TBA

Aidan Turner's Television:
2007 plays in The Tudors role as Bedoli in Episode: "In Cold Blood"
2008–2009 plays in The Clinic role as Ruairí McGowan in 18 episodes
2009 plays in Desperate Romantics role as Dante Gabriel Rossetti in 6 episodes
2009–2011 plays in Being Human role as John Mitchell in 22 episodes
2010 plays in Resonance role as TT in Pilot
2011 plays in Hattie role as John Schofield in TV movie
2015 plays in Poldark role as Ross Poldark in TV series

Aidan Turner's Theatre:
2005 plays in The Plough and the Stars role as Corp. Stoddard in Barbican Theatre London, United Kingdom
2005 plays in Suddenly Last Summer in Focus Theatre Dublin, Ireland
2005 plays in A Cry from Heaven role as Ardan in Abbey Theatre Dublin, Ireland
2005 plays in Yokohama Delegation role as Hercules in Kilkenny Arts Ferstival Kilkenny, Ireland
2005 plays in Titus Andronicus role as Demetrius in Project Arts Theatre Dublin, Ireland
2006 plays in The Crock of Gold role as Pan in Olympia Theatre On tour ; Dublin, Ireland On tour
2006–2007 plays in Drive-by in Cork Mid-Summer Festival in Cork, Ireland; Dublin Fringe Festival 2006 in Dublin, Ireland; Cantebury Arts Festival 2007 in Cantebury, United Kingdom
2007 plays in La Marea in Bedrock Theatre Co/DTF Dublin, Ireland
2007 plays in Cyrano role as Christian in Project Arts Centre Dublin, Ireland
2008 plays in Romeo And Juliet role as Paris in Abbey Theatre Dublin, Ireland