Eddie Redmayne, One word......BRILLIANT! I'm halfway through 'The Theory of Everything' and I had to rush through to say he was just brilliant in the movie. OMG are you kidding? Where has he been all this time? My favorite performance in quite some time. I'm sooo tired of seeing overrated and overacted performances win year after years that I don't even care who wins the Oscar, he sooo deserves it and he will be my winner this year..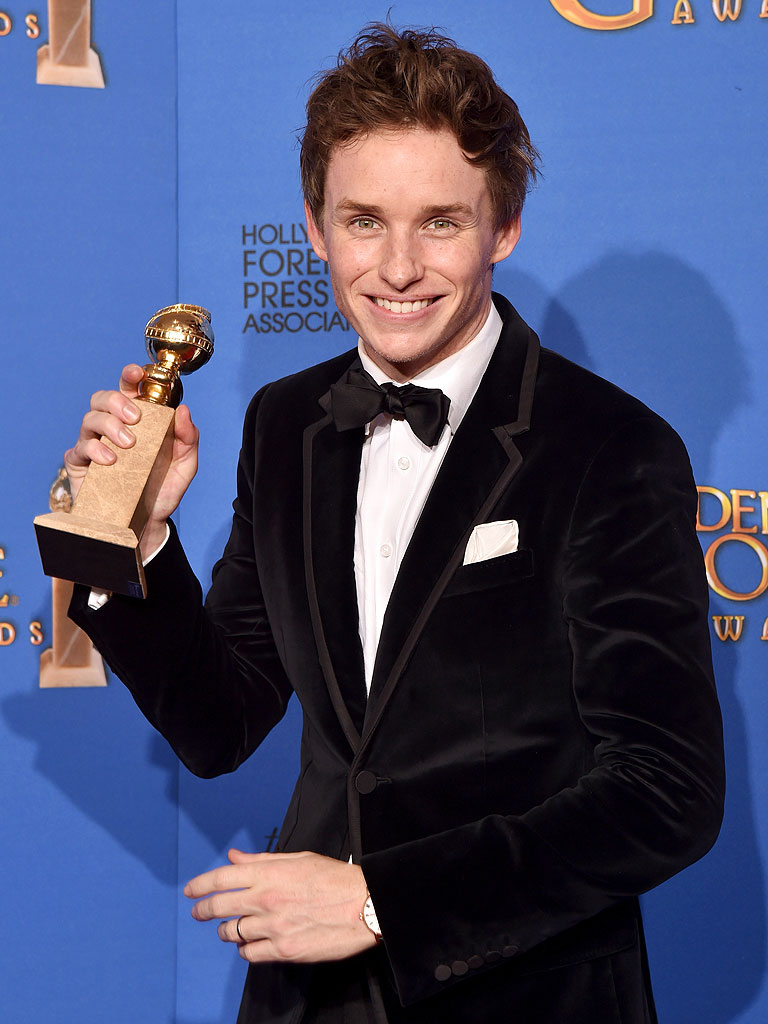 Eddie Redmayne, The Theory of Everything
I thought Eddie Redmayne was incredibly underrated in Les Miserables as well! Everyone was raving about Anne Hathaway, who, don't get me wrong, I thought was really fantastic as well, but Eddie almost impressed me even more because Marius isn't generally a character I typically really come to care about in Les Mis. It's not that he's a flat out unlikeable character really, he was just never all that memorable to me in comparison to so many other wonderful characters in the story. But Eddie made me care about the character of Marius so much, and his Empty Chairs at Empty Tables gutted me, in its own way, maybe even more than Anne's I Dreamed a Dream did.
So yeah, I'm happy Eddie Redmayne is getting all this well deserved recognition! He really was amazing in Theory of Everything. And the project he has coming up this year, The Danish Girl, also sounds really intriguing and like it should be another brilliant performance on his part, so he's definitely one of my favorite actors right now that I'll be making sure to follow as his career takes off from here
Never noticed him before in any of his movies The Theory of Everything. I was surprised, almost shocked at how easily he transformed into the character. Most actors would do over acting and typical mannerism to play this role. The most deserving winner of the night.
Eddie Redmayne's Films:
2006 plays in Like Minds role as Alex Forbes
2006 plays in The Good Shepherd role as Edward Wilson Jr.
2007 plays in Savage Grace role as Antony Baekeland
2007 plays in Elizabeth: The Golden Age role as Anthony Babington
2008 plays in The Yellow Handkerchief role as Gordy
2008 plays in The Other Boleyn Girl role as William Stafford
2009 plays in Powder Blue role as Qwerty Doolittle
2009 plays in Glorious 39 role as Ralph Keyes
2010 plays in Black Death role as Osmund
2011 plays in Hick role as Eddie Kreezer
2011 plays in My Week with Marilyn role as Colin Clark
2012 plays in Les Misérables role as Marius Pontmercy
2014 plays in The Theory of Everything role as Stephen Hawking
2015 plays in Jupiter Ascending role as Balem Abrasax
2015 plays in Thomas & Friends: Sodor's Legend of the Lost Treasure role as Ryan (voice; UK/US)
2016 plays in The Danish Girl role as Lili Elbe
Eddie Redmayne's Television:
1998 plays in Animal Ark role as John Hardy in Episode: "Bunnies in the Bathroom"
2003 plays in Doctors role as Rob Huntley in Episode: "Crescendo"
2005 plays in Elizabeth I role as The Earl of Southampton in Episode: "Southampton"
2008 plays in Tess of the d'Urbervilles role as Angel Clare in 4 episodes
2010 plays in The Pillars of the Earth role as Jack Jackson in 8 episodes
2012 plays in Birdsong role as Stephen Wraysford in 4 episodes
Eddie Redmayne's Stage:
1992–1993 plays in Oliver! role as Workhouse Boy #46 in West End
2002 plays in Twelfth Night role as Viola in Shakespeare's Globe
2003 plays in Master Harold...and the Boys role as Master Harold in Everyman Theatre
2004 plays in The Goat, or Who Is Sylvia? role as Billy in Almeida Theatre
2004 plays in Hecuba role as Polydorus in Donmar Warehouse
2007 plays in Now or Later role as John Jr. in Royal Court Theatre
2009–2010 plays in Red role as Ken in Donmar Warehouse/John Golden Theatre
2011–2012 plays in Richard II role as King Richard II in Donmar Warehouse