.. and Dakota Johnson's personality is quite cute. Despite her "moment" with her mom at the Oscars interview, I dont think thats a big deal considering she IS the daughter and daughters always do that to their parents, it shows that she's really genuine and doesnt act hypocritically on tv.
But overall, her face and voice looks so innocent to me. Her performance in FSOG is okay I guess, but the movie is just not that phenomenal. Its just okay, her other performances especially in "In a relationship", thats just.. SHE IS SOOO CUTE IN IT I CANT STAND IT.
Dakota Johnson, She is cute. I wasn't really bothered by her eye rolling and snapping at her mom thing either, I thought it was hilarious tbh. It was sort of rude I guess, especially because she basically acted like a bratty teenager on national television on the red carpet of the most important award show in the world -their world that is- and embarrassed her mom. I'm pretty sure if it were me saying that to my mom, I would have gotten slapped, if not right then - definitely in the car ride home.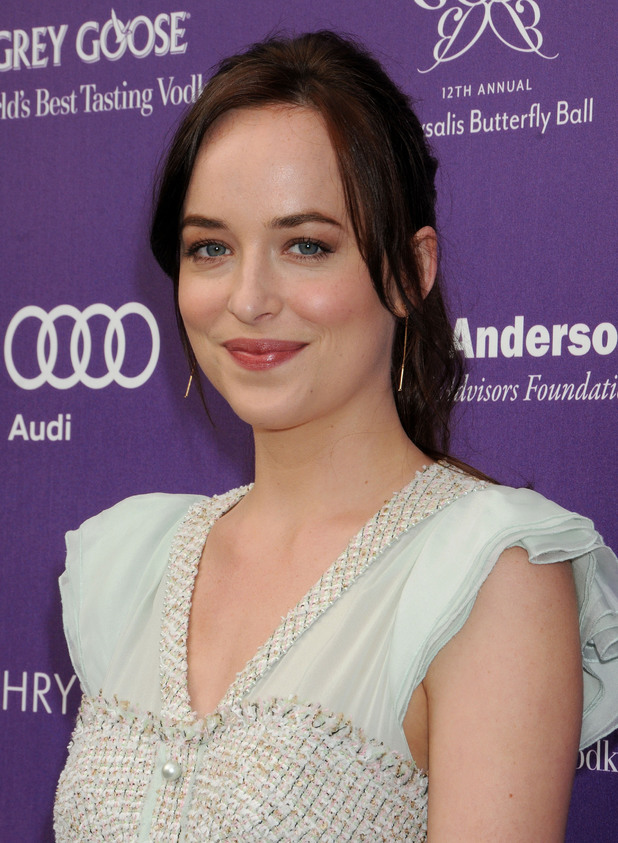 Dakota Johnson, Fifty Shades of Grey
Remember when Dakota Johnson said she didn't want her parents to see it? It was well-documented when she was promoting the movie that she specifically said she didn't want her parents to see the movie. Now cut to the red carpet with millions watching and she throws a mini-tantrum because her mom doesn't want to watch her simulate sex on film.
Dakota Johnson's Films:
1999 plays in Crazy in Alabama role as Sondra
2010 plays in The Social Network role as Amelia Ritter
2011 plays in Beastly role as Sloan Hagen
2012 plays in For Ellen role as Cindy Taylor
2012 plays in Goats role as Minnie
2012 plays in 21 Jump Street role as Fugazy
2012 plays in The Five-Year Engagement role as Audrey
2013 plays in Theo role as Chloe
2014 plays in Date and Switch role as Em
2014 plays in Need for Speed role as Anita Coleman
2015 plays in Fifty Shades of Grey role as Anastasia "Ana" Steele
2015 plays in Cymbeline role as Imogen
2015 plays in Black Mass role as Lindsey Cyr

Dakota Johnson's Televisions:
2012–2013 plays in Ben and Kate role as Kate Fox on Main cast; 16 episodes
2013 plays in The Office role as Dakota on Episode: "Finale"
2015 plays in Saturday Night Live role as Host on Episode: "Dakota Johnson/Alabama Shakes"