Dan Stevens has been receiving absolute rave reviews for his performance in "The Guest", which just premiered at Sundance on January 17th. Variety, Vanity Fair, every film blogger at Sundance has been heaping praise. Calling it a star-making turn, brilliant, mesmerizing, charismatic. Thrilled for him!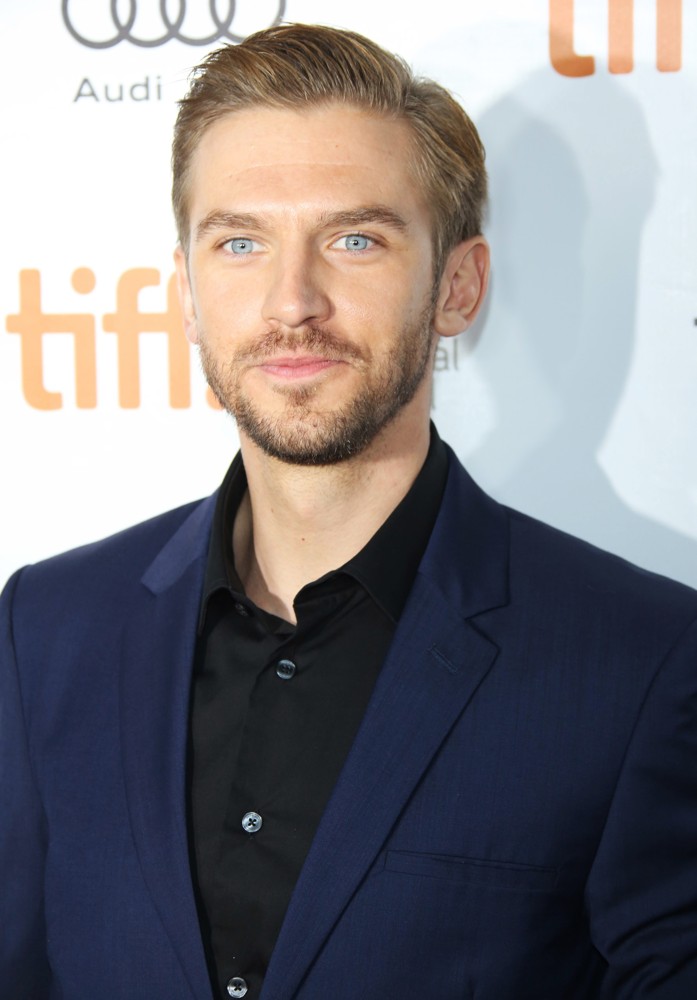 Dan Stevens, The Guest
Dan is getting even more stellar reviews and now, when we're hosting The Guest at TIFF, I'm very happy to be able to see the movie at the Midnight Madness. The critics' response after the Canadian prescreenings is absolutely glorious.
He is fantastic in it! I wholeheartedly agree with his decision to leave Downton after seeing this. Plus, he looks amazing! Cool film too, I'd go see it again. I hope this is the start of major roles for him!
I wondered why this very generic bland guy left this Iconic series and after seeing The guest, i can understand exactly what he was doing. And I saw The Guest because he was so damn funny and adorable on Jimmy Fallon I think.
Dan Stevens, He is mesmerizing on many levels. He is remenicient of actors from past generations and yet completely contemporary. I just kept thinking as I was watching, damn, what a smart move he made and what a great choice in this almost but not cheesy movie. It's really a great ride and so well made.
Dan Stevens, He's incredible in The Guest. To see the transformation from DA and his other roles here in the UK, it's hard to believe it's the same person. He got in really good shape and his accent was spot on, and gave him a completely different character. He's very versatile and it's going to be odd seeing him do both British and American roles. He was also good in A Walk Among the Tombstones, but had less screen time, but yes, it seems The Guest will be his breakthrough in the US.
Dan Stevens' Films:
2006 plays in Dracula role as Lord Arthur Holmwood
2007 plays in Maxwell role as Basil Brookes
2009 plays in Hilde role as David Cameron
2009 plays in The Turn of the Screw role as Dr. Fisher
2011 plays in The North London Book of the Dead role as Speaker
2011 plays in Babysitting role as Spencer
2012 plays in Vamps role as Joey
2012 plays in Shallow role as Richard Dove
2013 plays in Summer in February role as Gilbert Evans
2013 plays in The Fifth Estate role as Ian Katz
2014 plays in The Guest role as David Collins
2014 plays in A Walk Among the Tombstones role as Kenny Kristo
2014 plays in The Cobbler role as Dance-club DJ
2014 plays in Night at the Museum: Secret of the Tomb role as Sir Lancelot
2015 plays in Criminal Activities role as Noah
2015 plays in The Ticket role as James
2015 plays in Oppenheimer Strategies

Dan Stevens' Television
2004 plays in Frankenstein role as Henry Clerval Miniseries
2006 plays in The Line of Beauty role as Nick Guest Miniseries; 3 episodes
2007 plays in Agatha Christie's Marple role as Michael Faber Episode: "Nemesis"
2008 plays in Sense and Sensibility role as Edward Ferrars Miniseries; 3 episodes
2010–12 plays in Downton Abbey role as Matthew Crawley Main cast (series 1–3); 25 episodes, Screen Actors Guild Award for Outstanding Performance by an Ensemble in a Drama Series
2013 plays in The Tomorrow People role as TIM (voice) Uncredited; 3 episodes
2014 plays in Once Upon a Time: Wicked Is Coming role as Narrator TV special

Dan Stevens' Web
2014 plays in High Maintenance role as Colin Episode: "Rachel"


Dan Stevens' Stages
2004 plays in As You Like It role as Orlando The Rose Theatre, Kingston, Nominated – Ian Charleson Award
2005 plays in You Can Never Tell Theatre Royal, Bath
2005 plays in Waiting for Godot Theatre Royal, Bath
2005 plays in Private Lives Theatre Royal, Bath
2005 plays in Much Ado About Nothing Claudio Theatre Royal, Bath
2006 plays in The Romans in BritainMarban / Maitland Crucible Theatre, Sheffield
2006 plays in Hay FeverSimon Bliss Theatre Royal, Haymarket
2008 plays in The VortexNicky Lancaster Apollo Theatre, London
2009 plays in Every Good Boy Deserves FavourThe Doctor National Theatre, London
2009 plays in ArcadiaSeptimus Hodge Duke of York's Theatre, London
2010 plays in Late at Night role as David The Old Vic, London
2012 plays in The HeiressMorris Townsend Walter Kerr Theatre, Broadway

Dan Stevens' Audiobooks
2007 plays in The Dragon's Eye role as Narrator
2007 plays in Die with Me role as Narrator
2007 plays in Strike Back role as Narrator
2008 plays in Day role as Narrator
2008 plays in The Outcast role as Narrator
2009 plays in The Dragon Diary: Dragonology Chronicles, Vol. 2 role as Narrator
2009 plays in The Angel's Game role as Narrator
2009 plays in A Week in December role as Narrator
2009 plays in Wolf Hall role as Narrator
2010 plays in War Horse role as Narrator
2010 plays in Blueeyedboy role as Narrator
2010 plays in The Prince of Mist role as Narrator
2010 plays in Young Sherlock Holmes: Death Cloud role as Narrator
2010 plays in Fall of Giants role as Narrator
2010 plays in Young Sherlock Holmes: Red Leech role as Narrator
2011 plays in My Dear, I Wanted to Tell You role as Narrator
2011 plays in The Midnight Palace role as Narrator
2011 plays in The History of a Pleasure Seeker role as Narrator
2011 plays in The Invisible Ones role as Narrator
2012 plays in The Time Keeper role as Narrator
2013 plays in Letters from Everest: A First-Hand Account of the Epic First Ascent role as Narrator
2013 plays in Going Solo role as Narrator
2013 plays in Boy role as Narrator
2013 plays in Frankenstein role as NarratorNominated for two 2013 Audie Awards, Classic & Solo Narration – Male
2014 plays in Letters to a Young Poet role as Narrator
2014 plays in Murder on the Orient Express role as Narrator
2014 plays in And Then There Were None role as Narrator
2014 plays in The Heroes' Welcome role as Narrator
2014 plays in Scorpia Rising role as Narrator
2014 plays in Snakehead role as Narrator
2014 plays in Crocodile Tears role as Narrator
2014 plays in Casino Royale role as Narrator
2014 plays in The Iliad role as Narrator
2014 plays in The Odyssey role as Narrator

Dan Stevens' Radio
2006 plays in A Question of Attribution role as Phillips in BBC Radio 4
2008 plays in The Tennis Court role as Sam Greenwood in BBC Radio 4
2008 plays in Dickens Confidential (series 2) role as Charles Dickens in BBC Radio 4
2008 plays in Anthem for Doomed Youth role as Narrator in BBC Armistice exhibition
2008 plays in The Josephine Hart Poetry Hour (episode 1) role as BBC Radio 4 in
2008–09 plays in Orley Farm role as Peregrine Orm in BBC Radio 4
2009 plays in The Lady of the Camellias role as Duval in BBC Radio 4
2009 plays in Guilty Until Proven Innocent role as Jake in BBC Radio 4
2009 plays in The Music Room role as Narrator in BBC Radio 4
2010 plays in The Custom of the Country role as Ralph Marvell in BBC Radio 4
2010 plays in The Secret Pilgrim (episode 1) role as Ben Cavendish in BBC Radio 4
2010 plays in The Coral Thief role as Narrator in BBC Radio 4
2010 plays in The Story of the Siren – E.M. Forster Short Stories role as Narrator in BBC Radio 4
2011 plays in A Thousand Kisses role as Catullus in BBC Radio 3
2011 plays in Widowers' Houses role as Harry Trench in BBC Radio 3
2011 plays in Portrait of Winston role as Graham Sutherland in BBC Radio 4
2011 plays in King James Bible role as Narrator in BBC Radio 4
2011 plays in A Short History of Vampires – Dracula's Guest role as Bram Stoker in BBC Radio 7
2011 plays in Words & Music – Money role as Narrator in BBC Radio 3
2011 plays in Together – Face It role as Narrator in BBC Radio 4
2011 plays in The Spying Game Series – The Living Daylights role as Narrator in BBC Radio 4
2011 plays in Something Understood role as Reader in BBC Radio 4
2012 plays in The Old Ways role as Reader in BBC Radio 4