Danielle Fishel looked kind of trashy to me. I'm not sure what it is. Maybe it's the lips, maybe is her make up or the way her breasts always seem to be popping out of her shirt. But to me she always seemed to have this porn star kind of look. She needs a new stylist he he. I haven't seen her on the screen in years. But hoe weird is it going to be to see her play an actual mom in Girl Meets World. Maybe it's just me though. I just always thought she has this trashy image to her. Not unlike Carmene Electra or Pamela Anderson. And it has NOTHING to do with sex or nudity.. Just an image..
It's just.. Danielle Fishel looks kind of cheap.. I'm not quite sure how to say this without offending any of her fans. But she has a certain.. Well.. I don't know what else to call it. Maybe it's her huge rack which seems to pop out of everything she wears.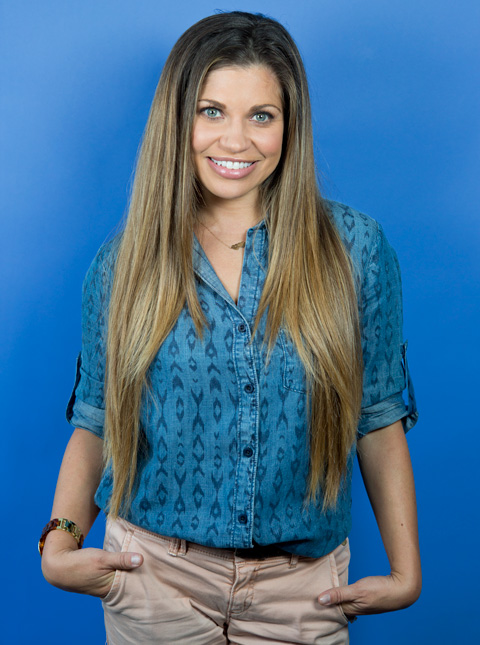 Normally, This Would be Cause for Concern: Tales of Calamity and Unrelenting Awkwardness by Danielle Fishel..
A warm and witty memoir..like taking a wonderful trip down memory lane..
..see where coming from though because of Danielle Fishel, her lips, huge breasts, and crazy long and thick mane of hair. She has dressed provocatively at times as well. All in all though, she is quite beautiful, but can easily slut it up if she wants to.
Danielle Fishel's Films:
2000 plays in Longshot role as Gloria
2003 plays in National Lampoon Presents Dorm Daze role as Marla
2004 plays in Gamebox 1.0 role as Kate / Princess
2006 plays in National Lampoon's Dorm Daze 2 role as Marla
2007 plays in The Chosen One role as Donna Goldstein (voice)
2013 plays in Boiling Pot role as Valerie Davis

Danielle Fishel's Televisions:
1992–1993 plays in Full House role as Jennifer P. in Episode: "I'm Not D.J.", "Silence Is Not Golden"
1993 plays in Harry and the Hendersons role as Jessica in Episode: "The Long Goodbyes: Part 2"
1993–2000 plays in Boy Meets World role as Topanga Lawrence-Matthews in 134 episodes
1996 plays in Kirk role as Heather in Episode: "Stuck on You"
1997 plays in ABC TGIF role as Topanga in Episode: "Frightful Halloween Bash"
2000 plays in Rocket's Red Glare role as Sarah Miller in Movie
2001, 2002 plays in Nikki role as Stacy in Vaya Con Nikki, "Welcome to the Rest of Your Life"
2002 plays in The Nightmare Room role as Counselor in Episode: "Camp Nowhere: Part 1"
2003 plays in Say What? Karaoke role as Herself/Host
2003 plays in Yes, Dear role as Katie in Episode: "Sorority Girl"
2008–2011 plays in The Dish role as Herself/Host
2009 plays in The Fuse 20 role as Herself/Host
2011 plays in Parenthood role as Animal Lady
2014–present plays in Girl Meets World role as Topanga Lawrence-Matthews