Kirsten Dunst, She is pretty and she is a very talented actress. She's very likable. She is a lovely woman. However, even when she was a teenager, she (still) has one of the sexiest voices ever. It's so soft and seductive.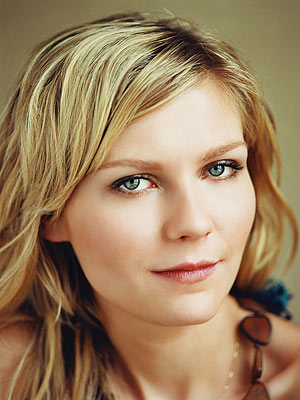 Melancholia Kirsten Dunst plays a bride..
Kirsten Dunst was perfect as Mary Jane Watson. She was wonderful as the most terrifying child imaginable in An Interview With A Vampire. But, drawing up characters to best fit personalities seems to be getting harder and harder for Hollywood screenwriters. She can be a pretty good actress given the right material.
Kirsten Dunst' films:
1989 play in New York Stories as Lisa's daughter
1990 play in The Bonfire of the Vanities as Campbell McCoy
1991 play in High Strung as Young Girl
1994 play in Greedy as Jolene
1994 play in Interview with the Vampire as Claudia
1996 play in Mother Night as Young Resi Noth
1997 play in Anastasia as Young Anastasia
1997 play in Wag the Dog as Tracy Limes
1998 play in Kiki's Delivery Service as Kiki
1998 play in Small Soldiers as Christy Fimple
1998 play in The Hairy Bird as Verena von Stefan
1998 play in The Animated Adventures of Tom Sawyer as Becky Thatcher
1999 play in True Heart as Bonnie
1999 play in The Virgin Suicides as Lux Lisbon
1999 play in Drop Dead Gorgeous as Amber Atkins
1999 play in Dick as Betsy Jobs
2000 play in The Crow: Salvation as Erin Randall
2000 play in Luckytown as Lidda Doyles
2000 play in Bring It On as Torrance Shipman
2000 play in Deeply as Silly
2001 play in Get Over It as Kelly Woods/Helena
2001 play in Crazy/Beautiful as Nicole Oakley
2001 play in The Cat's Meow as Marion Davies
2001 play in Lover's prayer as Zinaida
2002 play in Spider-Man as Mary Jane Watson
2003 play in Levity as Sofia Mellinger
2003 play in Kaena: The Prophecy as Kaena
2003 play in Mona Lisa Smile as Betty Warren
2004 play in Eternal Sunshine of the Spotless Mind as Mary Svevo
2004 play in Spider-Man 2 as Mary Jane Watson
2004 play in Wimbledon as Lizzie Bradbury
2005 play in Elizabethtown as Claire Colburn
2006 play in Marie Antoinette as Marie Antoinette
2007 play in Spider-Man 3 as Mary Jane Watson
2008 play in How to Lose Friends and Alienate People as Alison Olsen
2010 play in The Second Bakery Attack as Nat
2010 play in All Good Things as Katie Marks (Katherine McCarthy)
2011 play in Fight for Your Right Revisited[121] as Metal Chick
2011 play in Melancholia as Justine
2012 play in Heroes & Demons as Nat
2012 play in Bachelorette as Regan Crawford
2012 play in On the Road as Camille Moriarty
2012 play in Upside Down as Eden
2013 play in The Bling Ring as Herself
2013 play in Anchorman 2: The Legend Continues as El Trousias Maiden of the Clouds
2014 play in The Two Faces of January as Collette Macfarland
2015 play in Midnight Special