It's over for Mandy Moore and Ryan Adams... Nearly six years after the duo tied the knot, Adams, 40, filed for divorce from Moore, 30.. Well, six years is a pretty long time, especially for a Hollywood couple.
As for Mandy Moore, I don't know her personally, but if he didn't wanna stick it out then I guess its his loss. I say she should turn this to her advantage and use that divorce rage as new energy to help revive her career. She does limited voice over work and that pays the bills, but she also has a beautiful voice. Ok Mandy, now is the time to kick some ASS! :)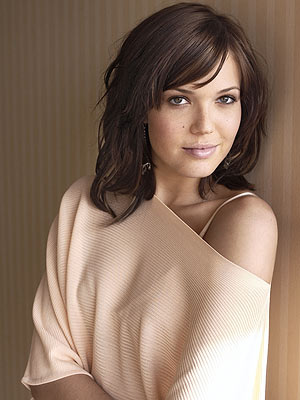 A Walk to Remember,Starring: Shane West, Mandy Moore
Mandy Moore, good actress... terrible music artist, I don't like the music that Mandy makes. But I wont disrespect her music because of that. I just choose to ignore her music and focus on her movie career instead. Mandy in movies is a good thing. I can't get enough of her movies. I am going to start to hunt down more of them.
The following Mandy Moore 's Films
2000 plays in Magic Al and the Mind Factory role as Brittany Foster
2001 plays in Dr. Dolittle 2 role as Girl Bear Cub
2001 plays in The Princess Diaries role as Lana Thomas
2002 plays in A Walk to Remember role as Jamie Sullivan
2002 plays in All I Want role as Lisa
2003 plays in How to Deal role as Halley Martin
2004 plays in Chasing Liberty role as Anna Foster
2004 plays in Saved! role as Hilary Faye
2005 plays in Racing Stripes role as Sandy
2005 plays in Romance & Cigarettes role as Baby Murder
2006 plays in American Dreamz role as Sally Kendoo
2006 plays in Brother Bear 2 role as Nita
2007 plays in Because I Said So role as Milly Wilder
2007 plays in Dedication role as Lucy Riley
2007 plays in License to Wed role as Sadie Jones
2007 plays in Southland Tales role as Madeline Frost Santaros
2009 plays in Swinging with the Finkels role as Ellie Finkel
2010 plays in Tangled role as Rapunzel
2011 plays in Love, Wedding, Marriage role as Ava
2012 plays in Hotel Noir role as Evangeline Lundy
2012 plays in Tangled Ever After role as Rapunzel
2013 plays in Christmas in Conway role as Natalie Springer
2013 plays in The Advocates role as Shannon Carter

The following Mandy Moore 's Televisions
2000 plays in 2GE+HER: The Series role as Herself
2000 plays in All That role as Herself/Musical Guest
2003 plays in Clone High role as Herself
2003 plays in Punk'd role as Herself
2005 plays in Criss Angel Mindfreak role as Herself
2005 plays in Entourage role as Herself/Aquagirl
2006 plays in Scrubs role as Julie Quinn
2006 plays in The Simpsons role as Tabitha Vixx
2007 plays in How I Met Your Mother role as Amy
2010 plays in Grey's Anatomy role as Mary Portman
2012 plays in Winx Club role as Additional Voices
2012–2013 plays in Tron: Uprising role as Mara
2013 plays in High School USA! role as Cassandra Barren
2014 plays in Sofia the First role as Rapunzel
2014–present plays in Sheriff Callie's Wild West role as Sheriff Callie
2014–present plays in Red Band Society role as Dr. Erin Grace

The following Mandy Moore 's Video games
2002 plays in Kingdom Hearts role as Aerith Gainsborough
2013 plays in Disney Infinity role as Rapunzel
2013 plays in Kingdom Hearts HD 1.5 Remix role as Aerith Gainsborough