Vincent D'Onofrio, Daredevil, His portrayal of Wilson Fisk/Kingpin is a perfectly nuanced masterpiece. He made a perfect Fisk.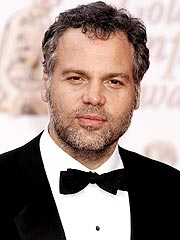 Vincent D'Onofrio, The Daredevil You Know
His acting in Daredevil is excellent. He gives the sense that Fisk is a complex and tortured person just like the hero, but on a different path. He's really the best actor in the show.
Vincent D'Onofrio's Films:
1983 The First Turn-On! Lobotomy
1984 It Don't Pay to Be an Honest Citizen Bennie
1987 Full Metal Jacket Pvt. Leonard "Gomer Pyle" Lawrence Nominated - New York Film Critics Circle Award for Best Supporting Actor
1987 Adventures in Babysitting Dawson/Thor
1988 Mystic Pizza Bill Montijo
1989 Signs of Life Daryl Monahan
1989 The Blood of Heroes Young Gar
1991 Crooked Hearts Charley
1991 Dying Young Gordon
1991 Fires Within Sam
1991 Naked Tango Cholo
1991 JFK Bill Newman
1992 The Player David Kahane
1992 Salt on Our Skin Gavin
1993 Being Human Priest
1993 Household Saints Joseph Santangelo Nominated - Independent Spirit Award for Best Male Lead
1993 Mr. Wonderful Dominic
1994 Ed Wood Orson Welles Voice dubbed by Maurice LaMarche
1994 The Investigator Ephraim McDougall Short film
1994 Imaginary Crimes Mr. Webster
1995 Stuart Saves His Family Donnie
1995 Strange Days Burton Steckler
1995 Hotel Paradise The Naked Stranger
1996 The Whole Wide World Robert E. Howard Producer
1996 The Winner Philip
1996 Feeling Minnesota Sam Clayton
1996 Good Luck Tony "Ole" Olezniak
1997 Boys Life 2 Tony Randozza Segment: "Nunzio's Second Cousin"
1997 Men in Black Edgar Saturn Award for Best Supporting Actor
1997 Guy Guy Producer
1998 The Taking of Pelham One Two Three Mr. Blue Television film
1998 The Newton Boys Dock Newton
1998 Claire Dolan Elton Garrett
1998 The Velocity of Gary Valentino Executive producer
1999 Spanish Judges Max
1999 The Thirteenth Floor Jason Whitney / Jerry Ashton
1999 That Championship Season Phil Romano Television film
2000 Happy Accidents Sam Deed
2000 Steal This Movie! Abbie Hoffman Executive producer
2000 The Cell Carl Stargher Nominated - Blockbuster Entertainment Award for Favorite Supporting Actor – Science Fiction
2001 Chelsea Walls Frank
2002 Sherlock: Case of Evil Moriarty Television film
2002 Impostor Hathaway
2002 Bark! Malcolm
2002 The Dangerous Lives of Altar Boys Father Casey
2002 The Red Sneakers Mercado Television film
2002 The Salton Sea Pooh-Bear
2005 Thumbsucker Mike Cobb Stockholm Film Festival Award for Best Actor
2005 Five Minutes, Mr. Welles Orson Welles Short film Writer, director
2006 The Break-Up Dennis Grobowski
2008 The Narrows Vinny Manadoro Nashville Film Festival Award for Best Actor
2008 Cadillac Records Mississippi DJ Uncredited
2009 Ipso facto Executive producer
2009 Staten Island Parmie Tarzo
2009 The New Tenants Jan Short film
2010 Zaritsas: Russian Women in New York Executive producer
2010 Don't Go in the Woods Writer, director
2010 Brooklyn's Finest Bobby "Carlo" Powers
2011 Kill the Irishman John Nardi
2011 Crackers Gus
2012 Chained Bob Sitges Film Festival Award for Best Actor
2012 American Falls Detective Foster Short film
2012 Fire with Fire David Hagan
2012 Sinister Professor Jonas Uncredited
2013 Ass Backwards Bruce West
2013 Charlie Countryman Bill
2013 Chlorine Roger
2013 Pawn Shop Chronicles Alton
2013 Escape Plan Lester Clark
2014 The Unlicensed Therapist The Unlicensed Therapist Short film
2014 Mall Danny
2014 The Judge Glen Palmer
2015 Run All Night Detective Harding
2015 Broken Horses Julius Hench
2015 Jurassic World Vic Hoskins Post-production
2015 Pele Complete
TBA In Dubious Battle London Filming

Vincent D'Onofrio's Televisions:
1986–1987 The Equalizer Thomas Marley / Davy Baylor 2 episodes
1987 Miami Vice Leon Wolf Episode: "The Afternoon Plane"
1997 Homicide: Life on the Street John Lange Episode: "Subway"
1998–2000 Men in Black: The Series Bugs (voice) 3 episodes
2001–2011 Law & Order: Criminal Intent Det. Robert Goren 141 Episodes
2009 Xavier: Renegade Angel Eric / The Judge (voices) 2 episodes
2015 Daredevil Wilson Fisk 11 episodes